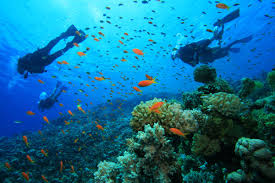 As a child, Peter had loved scuba diving and spent as much time as he could in the water looking at the colourful scenery beneath him and learning to spot different types of coral, fish and other marine life.
After many happy holidays abroad, and now an adult, he´d decided to take his hobby a step further and become a diving instructor. He´d lived and worked in Greece for a couple of years, initially training with a diving school for his PADI instructor certification, and then to gain experience at earning a living as an instructor. It was invaluable for the amount of knowledge he´d learned, not only about the fascinating underwater life but also how to be a guide. The work taught him how to deal with different people and how to adapt the dives to different levels of capabilities.
A couple of years later, he put this knowledge to good use when an unexpected move took him to Spain and he joined a renowned dive centre. Dealing with locals as well as tourists, Peter gradually picked up the language and this helped greatly with the training classes and put people at ease straight away. He relished the dive excursions where they explored the colourful reefs, abundant with rich and diverse marine life. He enjoyed wreck dives, making underwater discoveries, watching the inquisitive fish and sometimes even feeding them, with great opportunities for underwater photography shots. The spectacular undersea scenery never failed to amaze him.
Unfortunately, Peter had had to return to the UK to deal with unforeseen family matters but still went diving whenever he could and planned to go back to Spain eventually to continue with his dream job and lifestyle. To make sure he didn´t waste a moment of his time, he had enrolled in Spanish lessons to keep the language active in his mind as he intended to carry on exactly where he left off on his return to Spain. With more pressing matters to hand in the meantime, he contented himself with his memories of the magical underwater world of the Mediterranean.
Leave a Reply