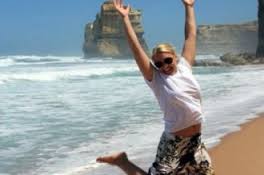 Jodie was single, living in rented accommodation and had itchy feet. She worked for a travel company and spent her days planning and booking holidays for the customers while wishing she was travelling to those destinations herself. So she jumped at the chance when the company offered her a position abroad.
A mixture of nerves and excitement filled her during the first week as she learned the ropes. Her duties were to meet and greet guests at the airport and hotels, and to sell tour tickets on the beach. This was better than a desk job any day! In the evenings, she had to complete reviews of the hotels and tours in order to ensure that the company only offered its customers accommodation and entertainment that came within its expected standards. Having a nosey around the plush hotels and experiencing the tours each day in exchange for writing a report seemed a very fair swop to Jodie. Selling the tour tickets was a lot easier than she had expected. People were already relaxed on the beach and happy to talk about what they wanted to do on their holidays, and those eager to get out of the hot sun and see the sights were more than happy to part with their money in exchange for a tour!
Eventually the season finished and Jodie had to move back to the UK. She went back to her old job with the same company but with a confidence and vigour that she didn´t have before. Feeling refreshed and more knowledgeable about the tourist resorts, she put everything into finding her customers the best holidays she could that would make them want to return again and again. And they wouldn´t be the only ones to return; Jodie had already put her name down for a placement abroad the following year! With her annual plan firmly in mind, she enrolled in some language lessons to give herself a bit of a head start the next time she travelled. This role was definitely suited to her and she was determined to make the most of this perfect opportunity.
If you´ve got itchy feet like Jodie, or feel that you´re stuck in a rut, do something about it and turn your life around. Learning languages literally opens up a whole world of opportunities, so grab yours now!
Leave a Reply