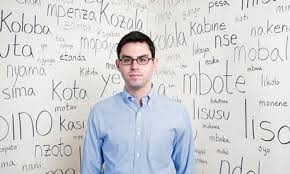 From a trip to the Congo to study chimpanzees for the National Geographic to a conversation with a pygmy, Joshua Foer is now able to converse in Lingala, the lingua franca of the Congo basin, which he learned in just 22 hours. So how did that happen?
During his trip, Joshua stayed with a local tribe, the Mbendjele pygmies, and got to know them with the help of a translator. On his return home, he decided to take a new direction with his career and vowed to visit the tribe again but this time to stay with them and immerse himself completely in their lifestyle and culture. This meant learning the language universally spoken across northern Congo – Lingala – albeit not the first language of the pygmies.
With only a 1963 edition of the US Foreign Service Institute handbook and a scanned copy of the Lingala-English dictionary which consisted on 1,109 words, Joshua used a learning technique to get to grips with the language. Using a combination of mnemonics and an app resembling the fun of online gaming, Joshua was able to learn the 1,000 most common words of Lingala. Over the course of 10 weeks, the total time spent on learning added up to just 22 hours and 15 minutes, with 20 minutes being the longest period he'd spent studying the language at any one time and 4 minutes being the average time.
The trip back to the village showed his linguistic studies to be a success as he was able to converse with the tribe without the aid of a translator. So it just goes to show that you really can learn a language in under 24 hours!
What techniques have you used to help you learn a language? Would you, like Joshua, be up for the challenge of learning a foreign language in such a short space of time?