Austrian food is delicious, heart-warming and comforting. Some dishes are best eaten when its pouring down rain, or blisteringly cold outside, while others are beautifully light and refreshing for a spring or summer picnic. There are some staples, mainly meat and potatoes, which you will find in most dishes. Don't let that dissuade you though! Vegetarians will also find something to make their mouth water! Have a look at some key dishes that you wouldn't certainly be remiss to not have tasted  at some point in your life.
1. Warm Potato Salad
This kind of potato salad is radically different from what we're used to in North America. This is best served warm (not hot), and consists of boiled potatoes (new or baby potatoes usually, but not always), red onion, apple cider vinegar, oil (I've always had pumpkin seed), salt, pepper and something like baby spinach. The end result is crave-able and will have you coming back for seconds and thirds. Even cold, it's delicious.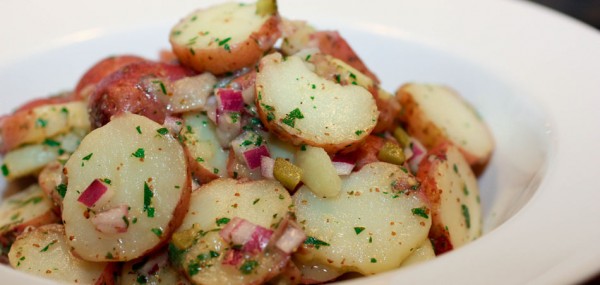 2. Gröstl
This may be one of the tastiest fry ups I've come across. You throw bacon/ham, eggs, potatoes, onion parsley, paprika and salt and pepper in a big skillet and then you fry it all together with some olive oil and voilà! You have an amazing breakfast or lunch that is traditionally eaten on mountain climbs or just after.  It's not a fussy dish, but this is one that will warm your heart and keep your belly full and satiated for a long time.
3. Kärntner Kasnudeln
These are a bit like dumplings stuffed with Bröseltopfen (a kind of fresh cheese), potato, sour cream, herbs like mint and parsley, onion and salt and pepper. Its freshness and light texture make it an easy meal to pair with other heavier additions like sausages or pork or it can be enjoyed all on its own with some yummy dark rye bread. Often you'll have it served with fried, fatty bacon pieces on top, to add a little extra flavour.
4. Salzburger Nockerl
This dessert is a bit like a meringue but with so much more going for it. There's more body and substance as well as more flavour. Lemon and vanilla complement each other to make this 'snow capped' treat a delicious mixture of sweet and light while still having substance. Definitely give these a try when ordering dessert. You won't be disappointed.
5. Sachertorte
The chocolate cake to eat when in Austria, Sachertorte is famous for its light layers of sponge cake that still manages to be rich and decadent.  In between each layer of sponge cake there is a thin layer of apricot jam, a taste that initially is hard to place, and the whole lovely thing is covered in a delicious dark chocolate icing. Paired with a cup of coffee, this cake is heaven on a plate.
Want to know how to order these beautiful dishes in German? Why not check out Language Museum's German classes?